We don't need to talk about how the world is crumbling do we? 🌎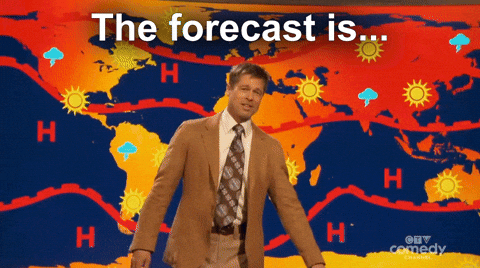 Let's just say it's a given that it's unsustainable with the way modern society is guzzling non-reusable materials.
Which brings us to the point in hand….
Christmas.
The time of year where stockings are expected to be filled with plasticky-little gimmicks and 300,000 tonnes of new waste will adorn the UK.
The good news is that right now you probably have some people in your family who are part of the sustainability brigade:  perhaps a vegan cousin, or an uncle who donates to charity in lieu of present-buying, or a sister who will send out recycled-paper Christmas cards…
Or it might be lil ol' you that is leading the way in sustainability and you want to reinforce this message via the presents you give out at Christmas.
It's already a hard enough time (especially financially) to be expected to buy presents for so many people ("Eurgh I don't want to buy anything for my daughter's best friend's mother but she gets me a box of smellies eveeeery year") so I'm going to share my environmentally — and financially — sustainable gift ideas with you to make your present-giving easier!
Thrift shop gift baskets
One of my favourite presents to give are 'goodie baskets' filled with small trinkets.
Over the years I've successfully pulled together many themed gift hampers but I'm sorry to say I've been awful at buying plasticky items, products with excessive packaging and even ordered little bits to be long-haul delivered to my door (ie a cheap phone case from China) to fill them.
It's time to be better — and thrift shops are a good place to start.
For the 'base' of your hamper, you should be able to find a small wicker basket for dirt cheap in a thrift shop — I literally see about 15 every time I enter one of these places. Or any other kind of storage utensil – it could even be a mixing bowl or a make up bag. The aim next is to fill it with some thrift shop goodies!
Here's some ideas for theme baskets to give to friends and family:
Baking. Look for cooking equipment: vintage mixing bowls, unusual cookie cutters, rolling pins, aprons, recipe books. These kinds of items usually go for $/£1-2 so would be a super cheap one to make.
Pampering. Look for candles, meditation/easy listening CDs, romance novels. Oversized mugs are great — fill with some packets of hot chocolate. Anything that would be great for a cosy night in.
Night out. Look for vintage blouses or a glitzy sweater (oversized is a safe bet), sparkly or metallic belts, chunky necklaces.
New home. If you know someone who's just recently moved home you could look for vintage plates, teapots, nice champagne glasses, unusual ornaments and board games.
And for those with young children:
Dress up bin. Look for children's costumes, funky jewellery, funny sunglasses or hats, anything that can be used as a prop. If you're creative you could also make a cardboard crown or fairy wand, and here's an awesome guide to making a cape out of a tshirt.
Experience, experience, experience
What a better way to share the love by investing in an experience for your friends and fam as opposed to gifting material goods!
Experiences are far more memorable and usually require a bit more effort than clicking on Amazon's Buy Now. For the extra time spent researching your idea, you get the benefit of knowing you've given a really meaningful gift.
This is especially significant for the kids, who often get excited over lots of unwrapping but realistically end up forgetting about new toys within minutes. The littles in your life would get far more out of spending time in new places and playing with you than a bit of plastic!
Perfect experience gifts could include (and you can create homemade 'tickets' for):
for littles: a big bake-off sesh, involving cookies and cupcakes, or a date to the library where you can read all of the books followed by ice cream
for parents: a 'night off' — you'll provide free babysitting for them to have an evening out (or in!)
for a partner or bestie: a cosy at-home movie date with cocktails and homemade popcorn, tickets to a show, or booking a fun class together (like dance, or cooking)
for an animal lover: visiting a local donkey/llama/goat sanctuary (depending on what they have nearby!). They're often free but you might need to book ahead
for the historian/artist: membership to a local museum or gallery
for friends/close colleagues: homemade cooked dinner with games night — crack out Pictionary for the biggest laughs (let's hope you don't have any Monicas in your life!)
Homemade treats  
There's many things you could make, even if you're not necessarily a creative type.
As long as you can follow some online DIY instructions, making some gifts for your loved ones should be easy. Here's some ideas:
Thrifted photo frame. Time to head back to the thrift store — pick up a cheap frame and sand it down then get out the paints! Here's a relatively easy golf leaf design. and this is even easier for a vintage, worn look. Ensure to print out a photo (steal from their Facebook page!) to pre-populate the frame.
Adorable candles. Candles are surprisingly easy to make — here's a 'recipe' for a beautiful one.
Thoughtful bookmark. This is great for any book lover — and even better if you can get a little one in your life to help you (ie get your niece to help create one for your sister). Here's a cute AF bookmark if you can sew or a super easy button bookmark. You could pair this with a $5-10 gift card to their favourite cafe or book shop.
Snowglobes. Something I'd never have thought to make myself, until I saw this blog post. Just how cute are these? And something that is likely to be used every Christmas.
Cookies! There's not really too much to say about this one… bake and decorate 😉
And if you really need to buy new…
Okay so you've decided buying from thrift shops isn't for you, you don't have a single creative bone in your body, nor the time to faff around working out an experience gift?
Here's some sustainable options that you can just purchase outright and still feel good about:
In store
Lush gift boxes. Not only is Lush a totally sustainable brand that spends a lot of money and effort on human rights and conservation causes, their products are also, quite literally, lush. They create ready-made gift boxes for your ease.
The Body Shop. Another great skincare/health brand that is great on sustainability and has an element of luxury. Mango Body Butter is a personal favourite.
Gift card to a 'bring your own jar' refill shop. Obviously this is applicable only if you have one of these stores near you! If you're in the US, check this site.
Reusable Starbucks mug. Perfect for any coffee lover, Starbucks have got some beautiful Christmassy ceramic reusable mugs for about $20. There are many other reusable mug options — Yeti or Hydro Flask. Buy a good quality one and they'll be set for life (or, y'know, a good 5 years at least).
Online  
Clubbing together
Instead of all of your family struggling to think what Uncle Joe or niece Sophie want, down tools and arrange a 'fund' where you all pitch in for one big gift. Make the recipient aware you're doing this and ask them what they want.
Now, this does goes against many family traditions of having 'lots of little things to open' — mine included. But honestly, the best present I ever got was when my mum, nan and uncle pitched in together to buy me a flat screen TV. That TV lasted me for nearly 6 years and meant the world to me. And I much preferred that to opening lots of little things.
Also along this theme: Secret Santa. Next time you're involved in one, see if you can get people on board to do a thrifted-only version. Yes it might make it a *lil* harder, but the results will probably be way more hilarious!
***
And that's a wrap! (from the most comprehensive list blog I've made in a while…).
I hope this list might give you some inspo for how to handle Christmas in a more sustainable manner, and here's hoping your family will be on board!
Are you worried you'll offend someone by giving them second hand clothing? Find a nice way of telling them to get over themselves. Be upfront that your gift was sourced from a charity shop/vintage stores and own the feeling of being environmentally friendly.
Let me know what you think! Merry Sustainable Christmas 🎅